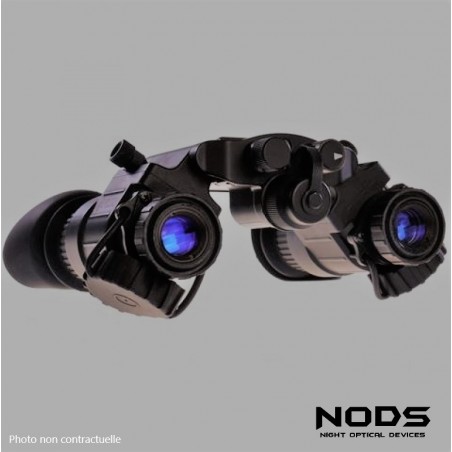  
NODS-31
The NODS-31 is a lightweight binocular night vison device, made to withstand any conditions. With its solid-state technology to control all aspects of its operations, it is a reliable tool for extensive night vision requirement.
This NODS-31 has the standard 40° field of view lenses which means that when you choose the basic tubes, it will provide a field of view of 31°, as explained in the product page of the Basic tube. Echo tubes does uses the full 40° FOV.
Depending on the tube you choose this binocular has the manual gain feature. We let you choose if you want this feature or not, in order to fit any budget. If you select a non-manual gain tube, you will still have the manual gain knob on the housing but this one won't be working.
We deliver this binocular with a carrying pouch, a pair of sacrificial lenses, a pair of day cover, a pair of demist shield and a lanyard. 
We assemble each binocular with the tubes you want, if you don't find the tube you are looking for in the list don't hesitate to send us a message and we'll take care of you.
We do not supply any "hands free" mount (this include the dovetail) with this unit in order to fully comply with the French regulations regarding night vision classification.
Magnification

1x

Lens System

27mm, F/1.3

FOV

31° with Basic tubes

40° with Echo tubes

Range of Focus

0.25 m to Infinity

Diopter Adjustment

2 to -6 dpt

Infrared Illuminator

Yes

IR Indicator

Yes (in FOV)

Low Battery Indicator

Yes (in FOV)

Power Supply

1x CR123 or 1 x AA (adaptor included)

Environmental Rating

Waterproof to 10 m or 20 m

Battery Life

20 hrs

Dimensions

113 x 118 x 73 mm

Weight

645 g