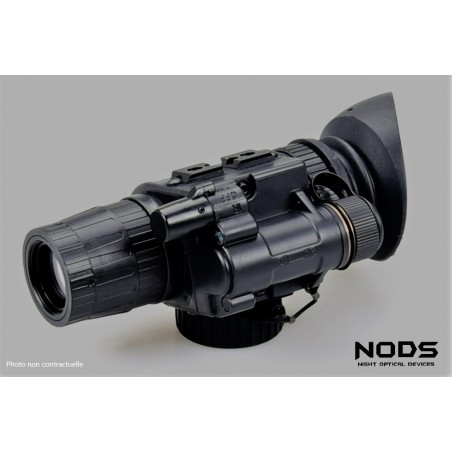  
NODS-01
The NODS-01 monocular is a high end monocular for anyone willing to get into night vision. 
Made out of reinforced polymer, and IP67 rated it will withstand any conditions and environment, it also features an automatic brightness control which will add another bright light protection to your tube. 
The IR LED will allow you to see in any lighting conditions.
This NODS-01 has standard 40° field of view lenses which means that when you choose the basic tubes, it will provide a field of view of 31°, as explained in the product page of the Basic tube. Echo tubes does uses the full 40° FOV.
Your device is shipped within a slipcover with an eyecap, a sacrificial lens, a patch and some NODS stickers.
Following the French regulation regarding night vision classification, we do not supply any "hands free" mount (this include the dovetail).
Magnification

x1

Field of View (degre)

31° with Basic Tube

40° with Echo Tube

Diopter Adjustement

+5/-5

Lens system

F1.2, 25,8 mm

Range of focus (meters)

0,25 meters to ∞

Dimensions (mm)

110 x 68 x 42

Weight (g)

306

Battery Life

30 hours with IR light on

60 hours without IR

Operating temperature (Celsius)

-40° to +40°

Waterproof IP rating

IP67